Leigh Yawkey Woodson Birds in Art Exhibition
Birds in Art is an international exhibition organized by the Leigh Yawkey Woodson Art Museum. The exhibition seeks to showcase two- and three-dimensional artworks from some of the best bird artists in the world. The Leigh Yawkey Woodson Art Museum is located in Wausau, WI. Each year, many hundreds of artworks are submitted for consideration and the museum selects approximately 100 pieces to include in the exhibition. In 2021, artwork from 113 artists were included in the 46th annual Birds in Art Exhibition.
Terrill has been in multiple Birds-in-Art shows during his career, including the very first show in 1976. In 2021, Terrill's piece entitled 'Morning on the Marsh' was selected to be in the exhibition. This painting depicts Black- Necked Stilts resting in the marsh in the morning light. He was inspired to do this painting by the presence of these shorebirds at Horicon Marsh National Wildlife Refuge, near his home. It's only been in the last three years that these shorebirds have been nesting in Wisconsin. In additon, this painting was one of 60 pieces selected to go on national tour, following the conclusion of the show at the Woodson Art Museum. If you are traveling this year near any of these locations, be sure to stop in and take a look at the show.
Birds in Art National Tour Schedule
Newington-Cropsey Foundation, Hastings-on-Hudson, New York, New York March 28 - May 20, 2022
Art Institute at the Arizona-Sonoran Desert Museum, Tuscon, Arizona June 24 - August 21, 2022
Bozeman Art Museum, Bozeman, Montana September 15 - December 15, 2022
Rockport Center for the Arts, Rockport, Texas January 13 - March 26, 2022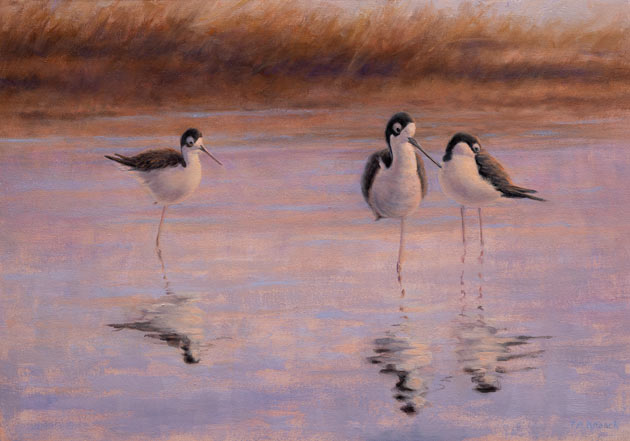 Morning on the Marsh
Original-Oil on Canvas
---
2019 Birds in Art Exhibition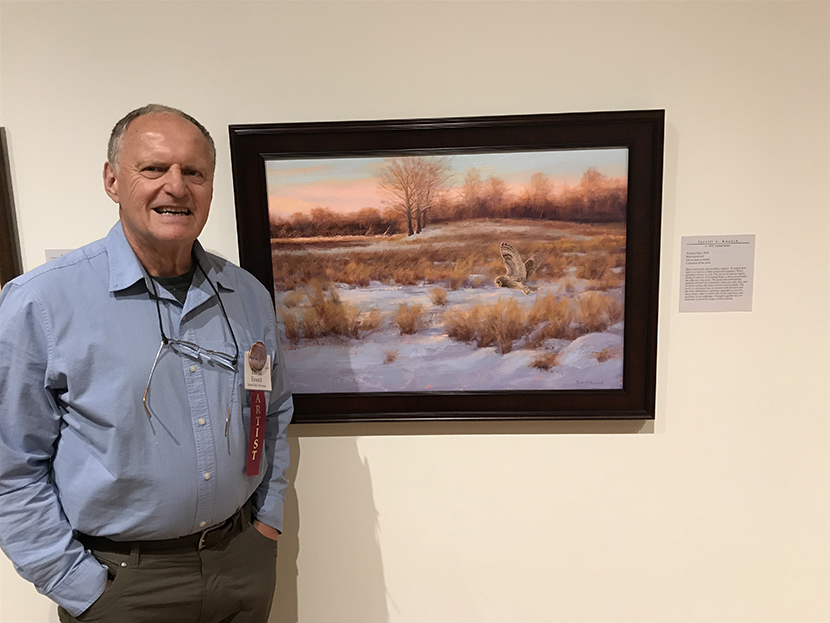 Terrill pictured with his painting Evening Hunt at the opening of the 2019 Birds in Art Exhibition
Short-eared owls are acrobatic raptors. To watch them hunt is to marvel at their grace and elegance. When spotting a mouse or vole, they hover in mid-air before diving to catch it. In Evening Hunt, a short-eared owl hunts the edge of a bog pond.
The 44th annual, internationally renowned, 2019 Birds in Art exhibition, was on display at the Leigh Yawkey Woodson Art Museum from Sept. 7 - Dec. 1, 2019. Sixty of the 100+ pieces of artwork from the exhibition were then selected to go on national tour. This included 50 paintings and works on paper, as well as 10 sculptures. Terrill's painting was one of the artworks selected to go on tour. Locations on the tour include the Wichita Falls Museum of Art - Midwestern State University in Wichita Falls, Texas, the Newington-Cropsey Foundation in Hastings-on-Hudson, New York, and the Wendell Gilley Museum in Southwest Harbor, Maine.